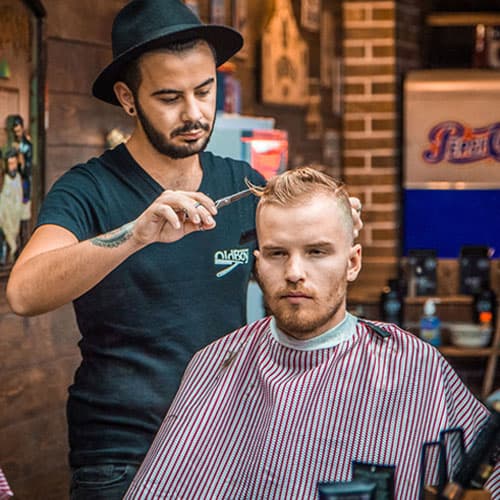 Welcome to Oldboy
Elegance means not only easiness and freedom from any restrictions and a sense of confidence. It means inspiration, gloss, each detail honed to perfection.
Hairstyles for men have a great variety. Choosing the right haircut, everyone can reflect their lifestyle and character, because a stylish haircut is one of the key details of the everyday look, along with a suit in shape, high-quality shoes and the aroma of perfume. People around you always pay attention to your hairstyle - looking at you, they first of all see your face, and how it is emphasized, so it is important to give enough time and attention to the haircut.
Nowadays, the fashion industry regularly offers us fresh trends, erases long-term stereotypes that are associated with fashion and style. Men prefer hair coloring and creative, fashionable haircuts. After all, a modern man with a quality long or short hairstyle invariably looks confident and representative.
Now the color, shape of the haircut or accessories is not so important as the hair itself, their health and well-groomed appearance, so you need to get a haircut from a professional in your field. We are well versed in this, men's haircuts and shaving are our specialization, the work of our masters is appreciated by everyone who comes to OldBoy.
Prices for men's haircuts in the OldBoy barbershop network start at 600 rubles (depending on the region). The selection of style and hairstyle is included in the price of the service, and we also provide comfort, a brutal atmosphere, good company and coffee, or stronger drinks.
When you visit the OldBoy barbershop, you can choose the specific components of the hairstyle that you like. If you want to understand in advance what kind of hairstyle you need, we have already prepared. To make it easier for you to choose and determine your desired haircut style, OldBoy brings to your attention some types and names of model men's haircuts, which we will be happy to do for you!
Crop cut
Timeless Classics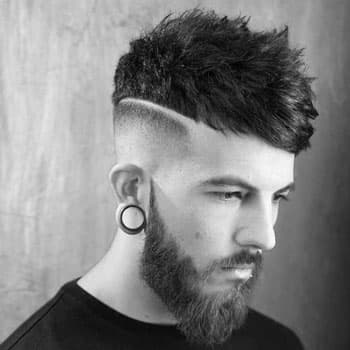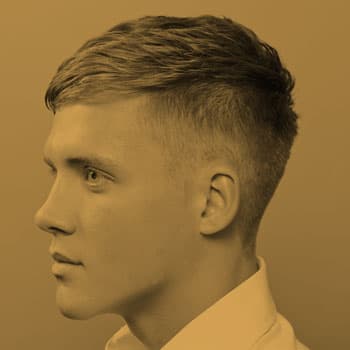 Must-have Haircut 2019
Unique and low maintenance haircut
Simplicity and comfort became the trend in 2018. The technique of crop haircut corresponds to a fast pace of living, fashion trends and a certain lifestyle.
A distinctive characteristic of this technique is the ragged texture of the strands: the hair at the back and sides is cut short, while the top remains slightly longer.
This technique becomes popular due to its quick and easy styling. It takes just a few minutes, you can comb strands forward or set them side part, depending on the length.
Crop is a universal haircut and will suit men of all ages, however, it looks especially good on slender young people with symmetrical, angular features.
As a white T-shirt and a black leather jacket are considered a male-style must-haves, crop has become one of the most timeless and adaptive haircuts. Unlike many other trendy haircuts, such as undercut or pompadour, french crop can be adapted to any face type and aesthetically suits to almost any wear style. It's no wonder, that many celebrities often lean towards crop.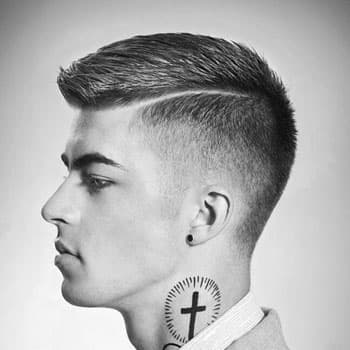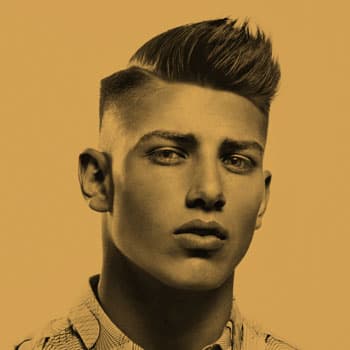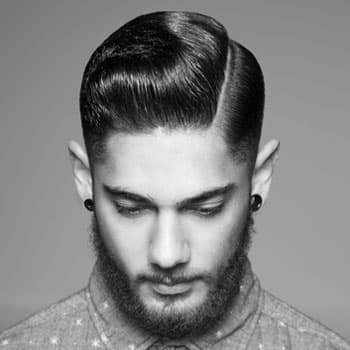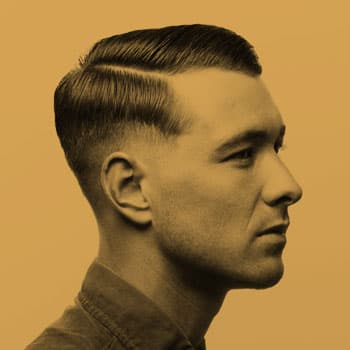 Timeless classics
Will emphasize your status and give you more confidence
Timeless classics from Britain. Haircut Executive emphasizes your social status, lifestyle and sence of self confidence.
The main cherry on top of this haircut is a highly accentuated sidepart, which is accentuated by an accurate shaved stripe with the help of trimmer. The areas of temples are cut short, the upper part and the bangs are given volume with different styling products: wax, gel or hair pomade to make the sidepart outline emphasized.
Executive suits almost everyone, regardless of the length and thickness of the hair. Classics lovers, who have got used to wear their hair on one side, or retro style lovers - Executive is exactly for you.
Undercut
Aggressive style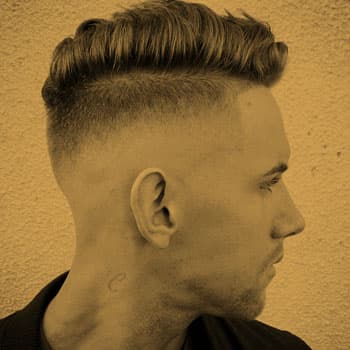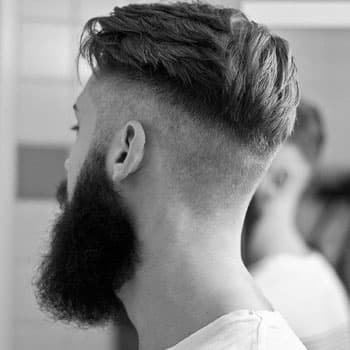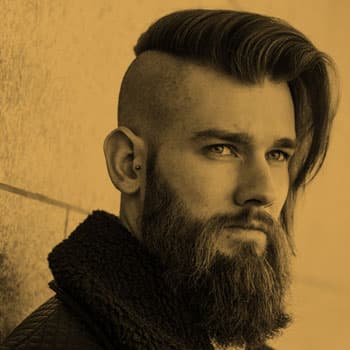 Was trendy in the 20 of xx century and still remains
Celebrities and athletes choice
Not only impressive, but also practical: depending on the type of styling, this haircut may look casual, holiday or sporty. Undercut became a part of everyday life in the 20s of the twentieth century and, it's worth to remark that, it has withstood the test of time.
This haircut is recognizable by a contrast: short-shaven temples and the back of the head, one or two centimeters long, and longer strands, hanging from the top. Long bangs is styled back or to the side with hair care products, using for adding volume.
Undercut is preferred by the self confident males. It is easy to change looks with different kinds of styling for various styles.
Undercut perfectly emphasizes the handsomeness of an oval face, as well as, the masculinity of a square shaped face. It is also a good choice for round shaped faces, because this haircut visually makes your face more handsome.
Fade technique
Urban style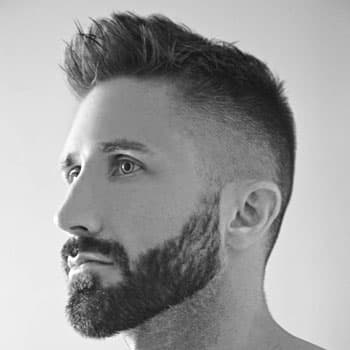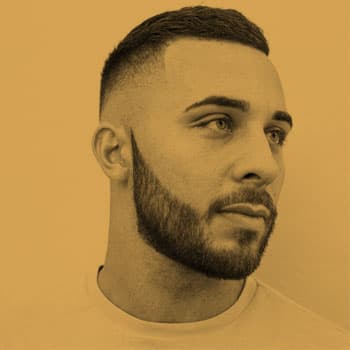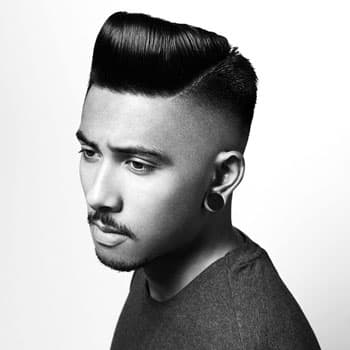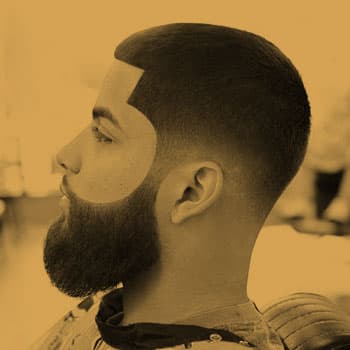 Fade(«fade» — gradually grow faint and disappear)
Perfect both for men in suits and athletes
This versatile haircut is suitable for men who prefer an active lifestyle, as well as, it makes the formal dress code of an office worker more unique. The fade haircut technique has a distinctive feature - a "smoky" gradient transition from the skin to any hair length.
Short cut hair with a slightly longer top length is a typical military style, which was very popular in the 1940s and 1950s in the USA. Modern fade hairstyles, done with extra precision, smooth gradient and a sharp shaped line at the back, make your look elegance.
There are many variations of fade techniques. It all depends on your preferences, face shape and hair structure. For men with thick hair, lenghten variations can create a fashionable look. For men with thin hair, a short fade variations are more suitable, they are easy to care for and at the same time these techtiques hide the lack of thick hair.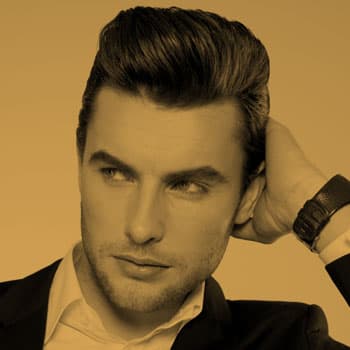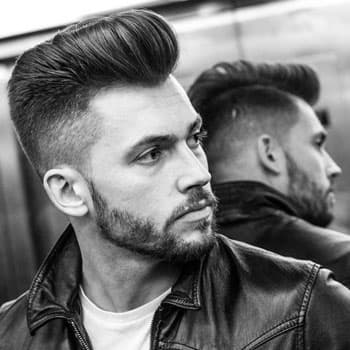 Icon of american spirit
Pompadour became popular in late 50's, thanks to Elvis Presley
This haircut is called in honor of Marquise de Pompadour, the official mistress of French king Louis XV. She wore this hairstyle and it soon became a symbol indicative of luxury and high-status and still remains.
Also, pompadour haircut was popular in the 1950s in the USA and all over the world among mods. Up to now, it is associated with the king of rock'n'roll Elvis Presley as his favourite hairstyle.
For such kind of haircut the hair length at the top should be at least 10 cm, the hair on the back of the head and on the sides should be trimmed, not too short with gradient. It makes this haitcut look harmonious.
A distinctive feature of this haircut is randomly located or widely formed bouf strands. At the back of the head hair should be carefully combed and look as smooth and voluminous as possible. These effect can be achieved with help of particular hair care products, and, although, its styling seems complicated, such kind of hairstyle looks really impressive, recognizable thanks to its volume.
Pompadour is a widely preferred among all ages, from teenagers to older men.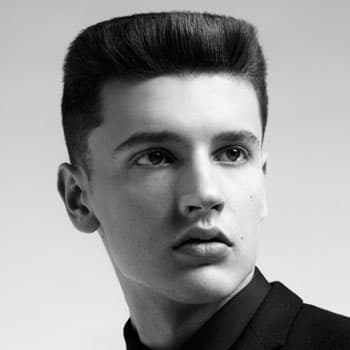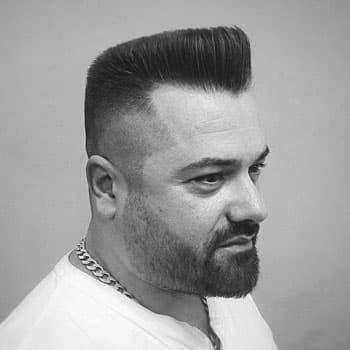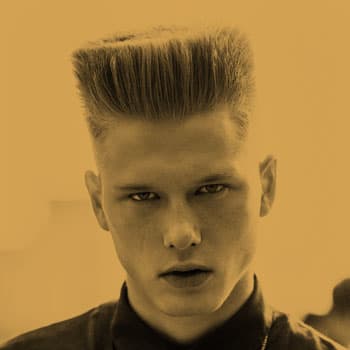 Straight line flat haircut
Gained popularity in 50s X X among military men
Flat top or flat is a type of short male haircut, the hair on the top is cut horizontally, creating a «flat surface», that's why this hairstyle received its name.
Flat top initially gained popularity in the 50s among military men, but lost it with the rise of a new fashion trend - long hair. In the 80's and 90's, it became popular again thanks to the action films with Arnold Schwarzenegger.
Flat top is a variation of buzzcut. The main difference from buzzcat is straightened hair on the top, which with the help of styling and length makes unique square shape. Of course, flat can have a slight angle of inclination, but the significant technique characteristic is «line haircut».
Flat top is created using a special flat comb and an electric trimmer, or, at the highest level of skill, hand scissors.
This haircut will suit any male type, except owners of a round face type and a short neck. Men who choose flat, acquire calm and neat appearance.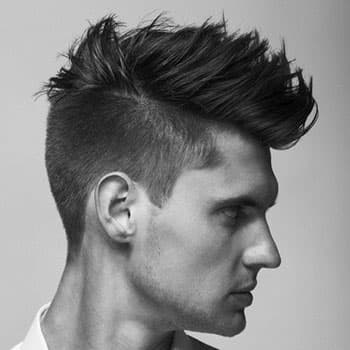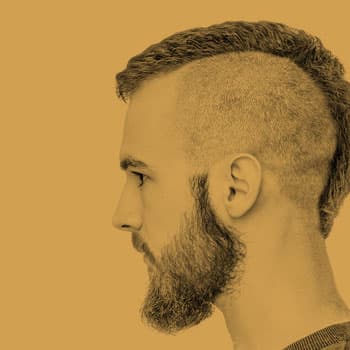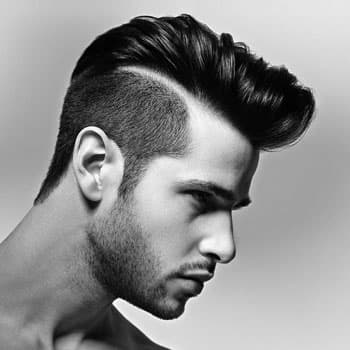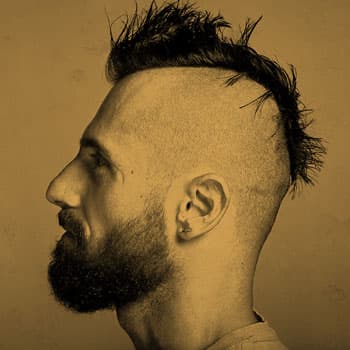 Icon of rebellious spirit of 70s
Ideal haircut for confident indomitable men with strong character
The nameof this haircut comes from the native name of the Indian tribe. Also, this haircut personifies bravery and rebellious spirit thanks to the 70s, when the punk subculture became the main fashion trend. Today, mohawk is nothing new for society, and some of its variantions have even gained wide popularity among athletes and actors.
Mohawk hairstyle has several variantions: short, long, with shaved or shortened temples with maximum length of 3 mm. It is created with a trimmer: trimming the sides of the head, and leaving a strip of long hair in the middle. In a classic variation a long strip of hair from the forehead to the neck remains, it has to be not wide, not more than two or four fingers. A long Mohawk can not only be «put up» with different hair products, but also styled in different ways.
Mohawk injoins on a certain dress style. With such a peculiar haircut you can't choose office dress code. Best of all for it suits military or sporty look. It is necessary to do styling every 2 - 3 weeks, otherwise, it will look untidy and slovenly.
Top knot
Man Bun
Aggressive style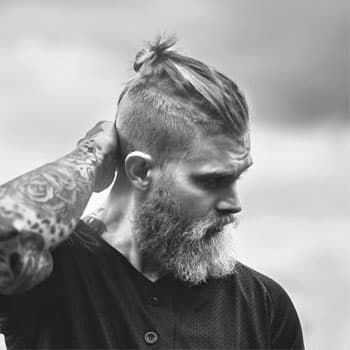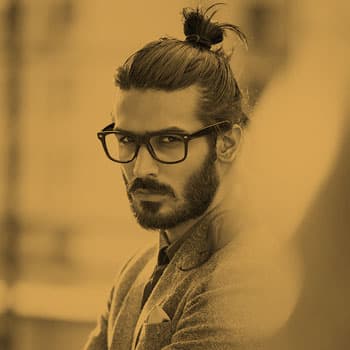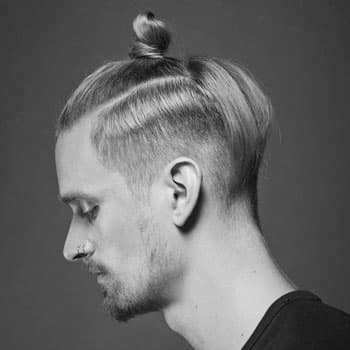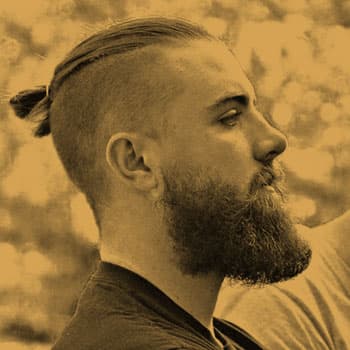 Has gained popularity since last year
Top knot has become popular among young men but now it is also becoming popular among mature adults
Top knot is a variation of man bun hairstyle.
Men bun is known since ancient times and is a simple knot on the top made of long hair. Type of this hairstyle, which is familiar for us is recognized by shaved temples and often can be seen in the images of Japanese samurai. Because of its high practicality and aesthetic beauty the trend for this haircut has appeared again.
This haircut technique is quite simple: the hair is scraped back into a knot, located on the top or on back of the head. Variations can be very different: from small "switches" on the top to a voluminous knots made of a long tail. The length of the strands on the top should be at least 15–20 cm, but for a more impressive look, it is recommended to have longer hair - it allows the tail to be tied up not too tight, giving the hair volume.
This haircut is especially suitable for people with a round or an oval face shape. But with a well-groomed beard, top notes can suit man with any face type. The exception are owners of lean and long faces, because topknot strongly emphasizes cheekbones and forehead. For owners of curly and voluminous hair we can highly recommend to straightened their hair.