Shaving worth Royals
The term «Royal shaving» is associated and connected with the name of William Truefit, who opened his first barbershop in 1805 in London. Afterwards he became the founder of Truefitt & Hill brand. His shop gained the highest reputation among english aristocracy and was highly appreciated by the royal family of the Great Britain. That was why production of Truefit gained exclusive privileges of the Queen. There was time when the bases of this prestigious procedure were created
What is necessary for shaving to become «Royal»?
First of all, it is a straight razor of highest quality and a barber, who can handle it. Our skilled professionals were trained and upgraded their skills in accordance with the standarts of Truefitt & Hill.
Secondly, premium care products from Truefit & Hill for shaving and skin care. Oils, soaps and balsams of the highest quality combining recipes tested over two centuries and up-to-date technologies.
Royal shaving is a real ceremony, which includes several steps:
1. Oil
applying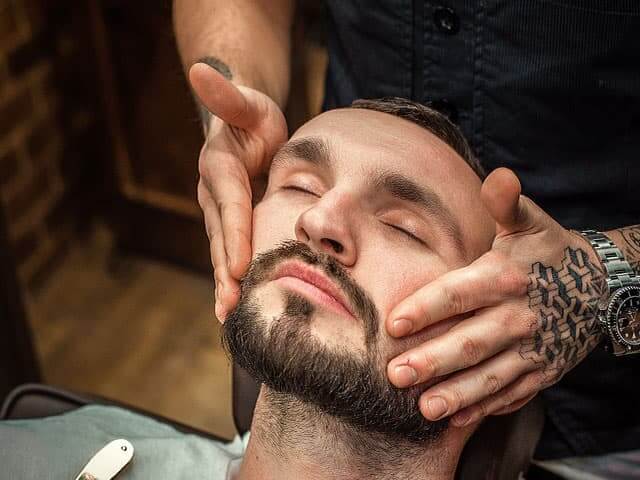 The first step: oil applying
At the very beginning, barber applies Truefitt & Hill shaving oil on your skin, which softens hair and provides comfortable and safe shaving, and also prevents the appearance of ingrown hairs.
The thin film of oil, remaining on the skin, provides smooth sliding of the razor blade thanks to its hydrophilic qualities.
Furthermore, active ingredients of oils (extracted from avocado, sunflower, coconut, citrus, cucumber and aloe) improve skin condition, smooth skin texture and reduce sensitivity due to increased hydration of epidermis cells, reduce feeling of tightness by dry skin. Truefitt & Hill oil also is well know thanks to its detoxifying and antioxidant properties.
2. Hot towel
Procedure
The second step: Hot towel procedure
In a special steamer, warmed-up terry towels are waiting for their time to be used. Perfectly chosen temperature and humidity will prevent your skin from irritation or discomfort and will prepare the beard for shaving.
After this procedure your skin and pores become clean. Blood driven to the surface lifts hairs, which under applied hot compress become softer and straighter, so following shaving is cleaner and safer. Hot towel procedures significantly reduce skin irritation and number of possble microcutters.
We use 2 towels for one procedure, a barber replaces the first compress with a new one, when it is getting colder.
3. Foam
applying
The third step: Foam applying
For this step a barder uses freshly prepared foam made from special soap based on natural ingredients of the highest quality.
To whip the foam and apply it to the face our masters use a special bowl and an unique shaving Silvertip brush made from badger wool. Its soft delicate hair, collected from a small area in the neck of an animal, remains your skin ideally moisturized and create foam of the proper consistency.
A barber covers shaved skin with warm foam.
4. Straight Razor
Shaving
The fourth step: Straight razor shaving
Now you are ready for the most crucial stage of the entire procedure. Shaving with a straight razor requires considerable experience and we are proud that our professionals have achieved real mastery in it.
All tools must undergo thorough disinfection, all our blades are disposable.
A barber tightens the skin where he needs to do it and precisely with the effort that is required on every part of the face. The sharpest edge of the razor, obeying the master's movements, slides over the skin at the required angle, cutting off hairs smoothly and completely.
5. Cooling
Compress
The fifth step: Cooling compress
After shaving skin should be properly smoothed. To do this, barber uses a cool compress, which tightens pores and relieves irritation.
6. Applying of aftershave care
The sixth step: applying of aftershave care
After applying a cooling compress, barber uses a special balm from Truefitt & Hill based on aloe and allantoin extracts. This procedure is made using light massaging movements and improves the regeneration of skin after shaving.
7. Cologne
applying
The seventh step: Cologne appliying
The final touch for the procedure of royal shaving is cologne. And it worth mentioning.
Truefitt & Hill's exclusive fragrances are outstanding example of elegant masculinity.
Perfectly chosen notes and the highest quality of the components make this British brand's colognes a real decoration of your brand new identity.